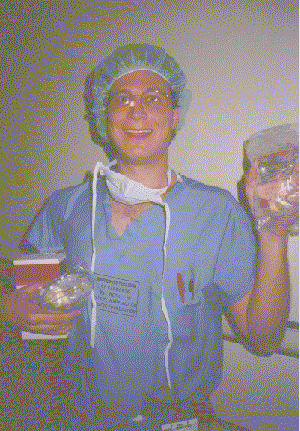 Keith J Ruskin, MD
Assistant Professor of Anesthesiology
Yale University School of Medicine
333 Cedar Street
New Haven, Connecticut USA
+1-203-785-2802 (Voice)
+1-203-785-6664 (Fax)
Dr. Ruskin is currently the director of the GASNet Anesthesia Resource.
Education: Dr. Ruskin received his MD from the University of Miami in 1988. He completed a residency in anesthesiology at New York University in 1992. He is board certified in anesthesiology.
Research Interests: Dr. Ruskin is currently involved in two areas of research: neurophysiology, and computers and networking in anesthesiology. He is currently involved in the development of a technique for mapping the lower cranial nerves as they leave the brain stem. He is also involved in the development of a number of internet-based educational materials, including a multimedia manual of neurosurgical anesthesiology, an international anesthesiology mailing list, and a gopher site.
Other Responsibilities: Dr. Ruskin is co-chairman of the Professional Communication committee of the Society for Technology in Anesthesiology. He is on the editorial board of the Journal of Clinical Monitoring, and also is the associate editor of Educational Synopses in Anesthesiology and Critical Care Medicine, an electronic journal of anesthesiology.